Course overview:
The purpose of our Skid Steer Loader course "conduct civil construction skid steer loader operations" is designed to give students the skills and practical experience to operate a skid steer loader across many job sites within Australia.
A skid-steer loader is a compact rigid-framed machine comprising of lift arms used to attach a wide range of tools and attachments. A skid steer can be used in many different work environments ranging from a construction site to a small landscape job due to the variation of its size.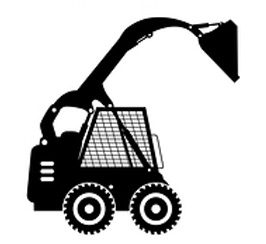 A larger skid steer may not work for a small landscaping job, likewise a small skid steer may not be suitable for a civil construction job. All skid steers have similar characteristics such as their manoeuvrability as they can turn in their own tracks, their small frame makes it easy to access places where larger machines cannot go, and their versatility allows them to use many attachments.
This course will give you detailed training on how to plan and prepare a job for skid steer operations, conduct all routine operational checks including shut down procedures, operate a skid steer using the many techniques, choose the appropriate attachment for the specific job, transport materials in a safe and efficient manner, maintain the skid steer, relocate the machine from site to site and finally maintain a clean work environment.
All aspects of this course will be taught by our highly knowledgeable trainers through written and practical teachings at our onsite training facility in Brisbane, with easy access to the airport. The course content will include, but is not limited to the following;
Hazard identification, environmental issues and implementation of control measures

Safety regulations, Australian standards and site policies and procedures

Capabilities, limitations and characteristics of a skid steer loader and its attachments

Safe operating techniques of a skid steer loader

Operate a skid steer loader

Routine operational checks

Maintenance and shutdown procedures

Relocation of the skid steer

Traffic management plans

Work method statements and material safety data sheets

Communication in the workplace

Load estimation
The successful applicant will have the knowledge to demonstrate the following;
Identify potential hazards such as unstable terrain, weather conditions, operator fatigue and traffic conditions

Apply the necessary control measures using the hierarchy of control to prevent such hazards from reoccurring

Operate a skid steer loader in various work environments ranging from small household jobs to large construction projects

Demonstrate various skid steer techniques such as spreading topsoil, backfilling, mixing materials and site clean up

Understand the various attachments including buckets, forks, blades and cutters and their functions

Select, fit and remove attachments applicable to the task in hand

Conduct all before and after operational checks to ensure the machine is in good working order

Perform maintenance duties and report accordingly

Detect faulty plant and equipment and isolate according to site procedures

Calculate safe working loads and earthwork calculations

Communicate effectively in the workplace with co-workers, supervisors and all other personnel

Comply with all relevant legislation and site policies and procedures
On successful completion of this training you will have the skills and practical experience to operate a skid steer loader/bobcat across many work environments using the various attachments and techniques available.
At Emerald our highly skilled trainers will ensure you are prepared you for future employment across many industries including construction, landscaping and mining.